Blogs, Websites, & Sales Pages, Oh my!
You can't get by with a 1999-designed Static-Website anymore.  In this special (long over-due) post, I'll pull back the curtain (hey, second Wizard of Oz reference in 2 paragraphs!) to reveal EXACTLY what I am using in my business and why.  And here's the best part: 99% of what I use is EASY and CHEAP (if not free!).  So you can do it too!
IMPORTANT:  Make sure to watch the video AND read the post!  I want to GIVE ALL in this Article and leave no stone unturned!  If I can give you SIMPLE systems for getting your web pages created easily and effortlessly, you'll be empowered to focus more on your marketing and fulfillment.  Ok, here we go!
VIDEO:  The EXACT Web Properties I Use and WHY:
 Watch on YouTube: http://www.youtube.com/watch?v=hLe8iBK14uo
My COMPLETE "Web Property" System
The following is a quick overview of the five elements we'll discuss in this post.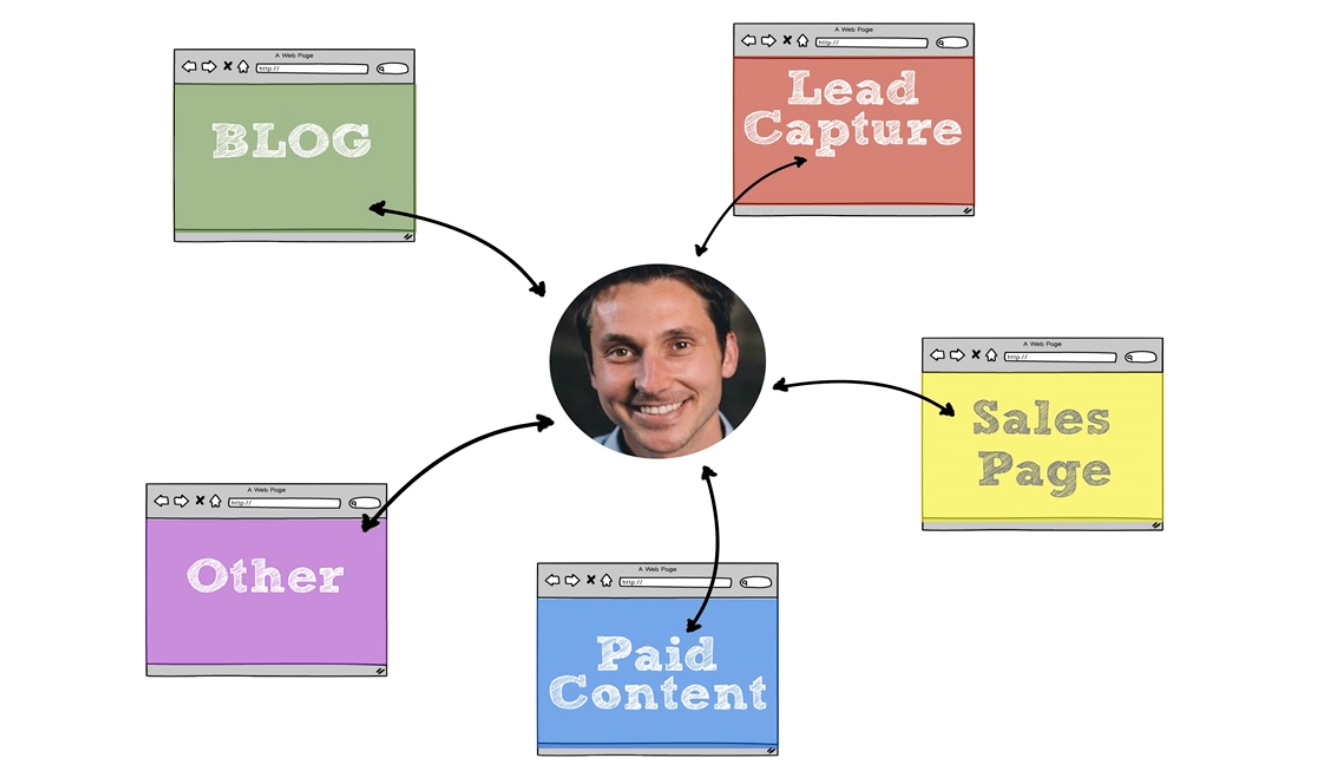 1. Your Blog
Let's start with your blog.  We use WordPress.org (it's free, and easy to use).  But we love it because of the universal ability to find and create custom themes and plugins to turn a basic content management platform into a fully-customizable PLATFORM.
Speaking of platform, that's what you'r blog is. It's a MAGNET that attracts new leads and customers via content.  Your content consists of articles, video, podcasts, etc.  Take this post for example, I'm sharing VALUABLE CONTENT, and if you like what you're reading, you'll opt-in and take the next step to work with me.
If you're looking for great themes to customize your WordPress Blog, we recommend checking out http://www.themeforest.net
2.  Your Lead Capture Page
Your blog is a TRAFFIC source.  It's a place that you share your content via social media or search engines.  But what do you do after you get that traffic?  You need to convert cold traffic into warm leads.  And you do that with a Lead Capture Page (or Squeeze Page).  Creating a squeeze page and free offer to get your traffic to SUBSCRIBE is beyond the scope of this post, but you can EASILY get a page made with LeadPages.net.
Leadpages.net is hands-down the EASIEST way to make incredible-looking Opt-In Pages for your business…and you can do it in just minutes!  For my FULL Lead Pages Review Video, click here
3.  Your Sales Page
Ok, you can't have a real business without actually selling anything, sorry.  And you can't sell anything without some sort of Sales Page.  Now, even though there are SEVERAL sales page options, such as eCommerce Pages, Video Sales Pages, Long Form Salesletters and more, I want to keep this simple: there are two ways that we get our sales pages created:
a.  Lead Pages Sales Templates
Leadpages.net comes with a few sales page templates that work great for simple projects…but sometimes you want something a bit more "advanced," that's where we create:
b.  Custom-Designed Sales Pages
If you want to create a custom-designed sale page, here's an option: head over to ThemeForest.net and select a Landing Page Template for less than $10.  Hire a programmer to customize the template, and you're good to go!  Want something even MORE specific, check out Option #5 below!
4. Protecting Your Paid Content
Do you sell paid content?  Do you have (or want) a membership site, online course, ebook, etc?  The BEST solution I recommend is Wishlist Member.  It's a $99 plugin that transforms your wordpress blog into a Password-Protected Members Area.  We use Wishlist, and absolutely love it!  To learn more about Wishlist Member, click here.
5. Creating "Custom" Pages
So…what if you want to create something that isn't in the list above?  Maybe you're running a special promo, or have a specific look in mind for a sales page.  What do you do then?  Here is my 4 step process for getting exactly what you want created…
Step #1:  Set the Intention
It's always clear to know what the intention of your page is (ex: make a sale, get the lead, etc)
Step #2: Find Swipe Files
Can you find other web pages that look similar to what you want? This will make everything else sooo much easier!
Step #3: Create a WireFrame
Using a cool piece of software called Balsamiq, you can wireframe exactly what you want your page to look like.
Step #4: Find/Hire a Programmer
The Final Step is to find a programmer/designer who can turn your wireframe into a reality. Using a site like ODesk.com, you can find great people and great prices to get you on track.
Why It's SO Important to Keep Your Web Properties Simple:
It is sooo easy to get lost in a sea of technical overwhelm and endless decisions like which site is best, etc.  Remember, strategy trumps all.  You must always be clear of your vision and the path you are taking to accomplish your goals.  We've tried all kinds of fancy websites, designs, themes and software, the ones that work best are the ones that get done the quickest and easiest!
Don't slow down or stop simply because you can't decide on a platform or system.  Choose NOW! And keep going!
Thank you for letting me share what's working for me, hope this gives some clarity!!