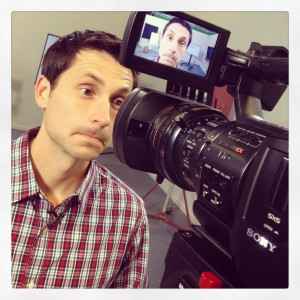 It's sad but true.  I've had a pretty challenging time recommending the RIGHT camera to my students.  There's too many factors and variables (budget, specific uses, skill level, etc), and I've had a hard time finding a one-size-fits-all camera.  This post is the FIRST time I have ever given a recommendation for a Video Camera:  The GoPro Hero 3.
What YOU Should Be Looking for in a Camera
If you're a business owner going the DIY route, a great camera is one that's easy-to-use, yet also produces high-quality video footage.  DSLR's are amazing, but they have a steep learning curve for most.  The iPhone is another GREAT option, but not everyone has one.  That leaves this mid-range camcorders from several brands.  There's far too many models for me to ever test and approve, so I narrow it down to the following criteria:
HD Quality Footage
External Audio Jack (for your microphone)
Within your Budget
But I know others still want me to just give them the name of a camera!  So here it is folks!  The GoPro Hero 3!
My Official HD Video Camera Review:
HD Video Camera
Why I LOVE the GoPro Hero 3
This camera has everything I look for in a camera for busy business owners.  It's light, SUPER easy-to-use, shoots great footage, it's really small, and it's cheap!  You can get a GoPro starting at just under $200.  But here's the best part, as you and your video-skills grow, so can your camera!  There are a myriad of attachments and parts that can turn your GoPro into a Super-Charged Camera for your business.  And yes, I've included the links to my favorite accessories below.
But Which GoPro Do I Get?
There are three models ranging from $200 to $400.  I recommend settling right in the middle at the $299 model: The GoPro Hero 3 SILVER.
The GoPRO & GoPRO Accessories I Recommend
1. The GoPro Hero 3 (Silver Addition)
This is the camera I have and use, and I love it.  I don't see a reason to upgrade to the BLACK…and honestly, I think the $199 (White) will do just fine!

2. GoPro Tripod Adapter
No camera is complete if you can't attach it to your tripod.  You'll need to pick up this little adapter so you can add it to any standard tripod with ease!

3. GoPro Open Frame
Why is this little piece important…and what does it do? Well, the GoPro comes standard with a WATERPROOF case.  That case blocks out sound and makes your audio pretty bad.  This case let's your onboard mic breathe and solves the problem of poor audio!

4. GoPro Mic Adapter
Here's one of my favorite features!  Grab this little cable and now you can have external audio for your camera!  Plug in a mic and you've instantly boosted the quality!!  Woohoo!!

5. The GoPro LCD Touch Screen
One "Drawback" of the GoPRO, it comes with no screen so it's hard to frame up your shot.  BUT…for a little extra dough, you can add this LCD screen to your camera to see exactly what you're filming!  (Note: You don't NEED this, you can actually use the GoPro app on your iPhone or iPad to see what you are shooting in real time!!)

My Final Thoughts on the GoPro…
I purchased my Hero 3 in December of 2012.  I've since purchased just about every accessory I can get my hands on.  I love that it is small, lightweight and easy to use.  I can take it on the go, never worry about breaking it, and still capture amazing footage with it!!  Is it the PERFECT camera?  I don't know!  It depends 100% on what you are doing!  This is a great "on-the-go" camera, and even better as a secondary camera to studio shoots!
I truly help this post has help you gain clarity on the right camera for your business needs!  Leave your questions, thoughts and observations in the comments below!!
P.S.  Yes, I used my Amazon Affiliate Links for the GoPro and Accessories in this post, so ya I get like 12 cents when you buy…but that's not why I do it, this camera is legit and I love it!  Get it through your OWN affiliate link!  That 12 cents adds up!!