Who doesn't want to be Rich, Happy & Hot?!  (…or, "handsome" for us guys!)

There's one Female Marketer who embodies exactly what she teaches…and she does it through VIDEO. The following thorough & detailed article will show you exactly how one woman is using YouTube & Video the right way (her own way!) to achieve extraordinary results!

I first heard the name "Marie Forleo" about one year ago.  A past client of mine asked me if I had seen any of Marie's videos.  She later admitted that this "Female Marketer" is the only person whose videos she waits for every week and watches from start to finish with full attention!  Now, that kind of loyalty and engagement gets my attention, so I had to investigate…

Over on
Marie TV
(
www.YouTube.com/marieforleo
), I discovered a series of engaging, fun and light-hearted videos featured Marie as she answered the burning questions of her female audience.  Marie is an author, coach, and mentor to a large group (
and growing!
) of motivated and empowered female entrepreneurs who are eager to spread their message out to the World.  Marie is making a difference by empowering others to do the same.
The Results of One Year of YouTube
When I first stumbled upon Marie's channel, I noticed each video had between 2-3,000 views.  Not much for all the work, right?  Well, I ended up meeting up with Marie in New York City just six months later.  She asked for some "YouTube Advice," and I gave her some…but she really only needed one tip, which I made sure she heard loud and clear:

"Just keep going!  Keep posting your videos consistently.
You are gaining momentum, just keep going!"

One month later, one of Marie's videos was featured on the home page of YouTube and she received +120,000 views in just one day!

Needless to say, Marie DID keep going, and today (at the time of this writing), Marie is just a few thousands views shy of hitting the One Million Views mark!

What's the Point, James?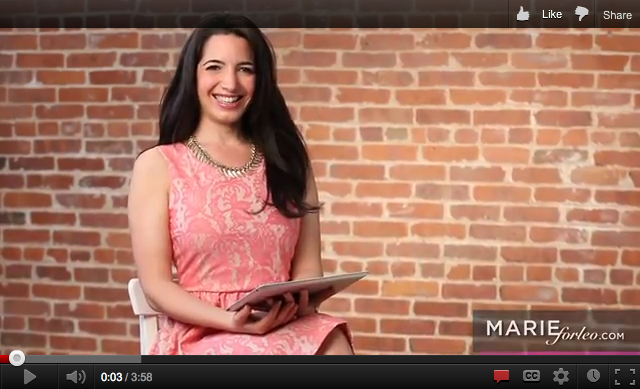 Today, Marie has become a great friend (
and NYC Neighbor!
).  Her message, strategies and energy is absolutely incredible.  I have become close friends with several of her female students and have seen the growth and impact she has directly had on them.  This post is an analysis of the past year of Marie's Video Marketing efforts.  Below, I have reversed-engineered her strategies, principles and effective habits for massive growth and real results using YouTube and video.

…in the last Private Mastermind I attended, Marie got up and spoke and began her presentation with, "My goal is to consistently release the best f*%king videos for our students and subscribers in the entire industry!"

I feel Marie has accomplished this goal.  Now let's see how exactly she has done that…

Marie's YouTube Success Principle #1: Begin with the End in Mind
In Steven Covey's classic
7 Habits of Highly Successful People
, he clearly lays out the importance of
Success Habit #2:
Begin with the End in Mind
.  When you have a Big Vision like Marie does, you have to be able to use binoculars to see it out there in the distance.  Marie was looking for a way to connect with a larger audience in a more engaging way on the net.  She can't be doing live events every week, and everyone emails their list to death.  YouTube provides the perfect platform for fostering a loyal community of supporters and fans.

But the results you want with YouTube don't always come overnight.  Even though Marie's first few videos still got more views that most others, she knew it would take time.  She had to stay motivated by keeping her vision clearl and focused.  And even if she had an audience of two, her message, energy and enthusiasm would still be the same.

As you start (or re-think) your YouTube Strategy, look first at the Big Picture.  What are you trying to accomplish with your videos?  What is the ultimate goal?  What feeling, emotion and opinion do you want your viewers to have of you as they watch your content?  Be prepared to map out your Vsion and your strategy for YouTube Domination now, and put in the time and effort that it takes to bring it to fruition.

Marie's YouTube Success Principle #2: The Tortoise Always Beats the Hare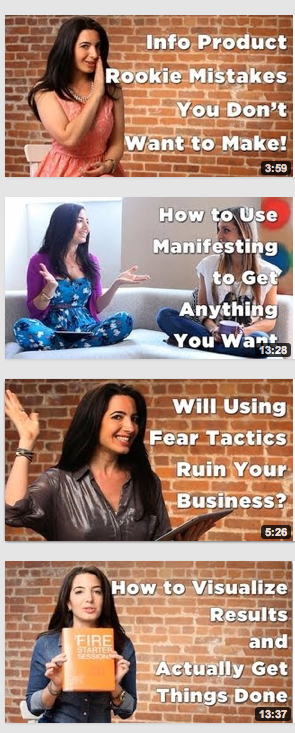 Yes, in the old fable, the Tortoise
did
beat the Hare..but it's nice to be the fastest tortoise out there!  The Tortoise is
Focused
and
Consistent
.  For over one full year, Marie has consistently uploaded a new, high-quality and engaging video for her audience each and every week!  She has remained focused and consistent…
like our friendly Tortoise.
 But she sure as hell wasn't slow!  I caught up with Marie a few months back, and she revealed a few of her insider secrets on super-fast action-taking implementation!

First, Marie plans.  Before she steps into the studio, she knows exactly what she is going to talk about and address.  (Note: For her "Q&A Tuesday" Sessions, content creation is easy! She just answers her students & subscribers questions!)

Second, Marie hired help!  Yes, Marie is a superstar and has the luxury to attract New York's finest Film Crew, but anyone at any level (and budget) can benefit significantly when you recruit the help of friends, family or business partners to support and collaborate with your video creation efforts.  If you have to worry about lighting, backgrounds, charging the camera, etc WHILE you are preparing to be a Super Star, it's not going to be a pleasant experience for you.

Third, and this is the best part, Marie films a block of ten videos all at once!  Making videos is like working out, the longer you do it, the more warmed up you feel.  You get into a rhythm.  You mess up less.  You improve your communication.  You drop the "um's" & "ah's."  And then, after two to three hours of filming, you have the next 10 weeks worth of content, not bad eh?  By the way, this is the way I create my videos, several of the major YouTube Players, AND plenty of TV shows…think about it.

At the end of the day, video IS more work than sending out a tweat or a Facebook update about your latest experience at Whole Foods.  Your job as a Savvy Marketer is to recruit and enlist the help of others while honing this video creation process into an efficient machine.  Yes, be the tortoise.  Be slow to jump from distraction to distraction.  Stay steady and focused on the prize.  And make a direct B-Line for your end goal.  Be consistent, patient and relentless.

Marie's Youtube Success Principle #3: Ask And it is Given!
 "But James, I don't know what to do videos on! I don't know what type of content to create!"  (Insert a baby's cry here).  Marie has done an excellent job of listening to her audience and delivering incredible VALUE through her videos and her message.  She did nothing innovative or new…in fact, it's kind of the oldest trick in the book: Frequently Asked Questions (sounds kinda boring, right?).  Marie put a spin on the old "Ask the Expert" slash FAQ model, and created "Q & A Tuesday" a weekly series where she answers the REAL questions and problems that her subscribers are having!  This does a few magical things…

First, Marie creates Trust and Rapport through Social Proof. When Marie answers the questions of real students in her videos, others instantly look at her as The Authority in the marketplace!

Secondly, Value is easily delivered.  When Marie knows exactly what her audience wants and simply delivers it via video, her audience is happy.  She provides incredible value to the marketplace by answering those plaguing questions, and her audience simply wants more.

And finally, Marie creates a Community.  The big secret that no one is telling you, is that the most successful leaders and influencers today are those who have the ability to foster a community.  The authority has a vision, a belief, value, and others magnetically rally to their side for support, encouragement and growth.  Just watching one of Marie's videos, and you feel apart of her movement to empower women!

Too often we get attached on what we think the marketplace needs.  We share our tips and our secrets, but we fail to make the connection with our audience.  "What the heck does this have to do with me, with my problems, with my situation?"  As Marie preaches, "Sell them what they WANT, and teach them what they NEED!"  Listen to the questions of your audience (no matter how ridiculous they may seem tho you), and deliver the answers!"   However, simply answering questions in video form will not yield Marie-Worthy results, you are still missing one key ingredient…

Marie's YouTube Success Principle #4: From Great to Outstanding
 Tony Robbins shares with us that if you want "Excellent Results," you must be willing to go beyond "excellent" and become "OUTSTANDING."

Anyone can answer frequently asked questions in a video.  Anyone can give the "secrets of making millions," the magic is in HOW you deliver that message.  This "How," is the magic X-Factor that Marie possesses.  And it is probably the hardest to teach.  Just watch one of Marie's videos and you'll know what I mean.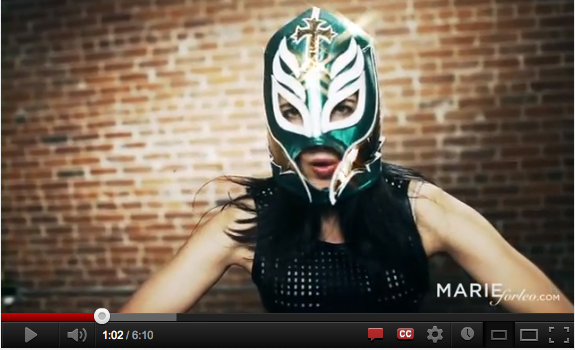 How can you be REMARKABLE?

Here is a quick little hint on how you can become "more awesomer" in your videos.  Put yourself in the shoes of those around you.  Look at your friends, family, the ones who love you.  What is it that they like about you?  Are you caring, entertaining, funny, loud?!  Take that "essence of you" and crank it up!  Crank it up as much as you can and hit record! The camera has this "energy filter" that takes away a bit of that essence.  You have to be prepared to give more, and be more on the camera so you become engaging, entertaining and enjoyable to watch!

Marie delivers incredible value.  But she has delivered in a way that is outstanding.  She truly is REMARKABLE on camera.  How can you be remarkable?!

Marie's YouTube Success Principle #5: Always be Marketing
 A.B.M.!  Always Be Marketing!  I learned this a long time ago, and Marie not only exemplifying it in her business, but she teaches it as well.  All over Facebook, you'll see pictures of women holding a white coffee mug that says "I freakin' Love Marketing!" It's a part of Marie's initiative to teach women "Non-Douchy" marketing that works.  She explains to her female audience that "sales and marketing" doesn't have to be slimy or icky.  In fact, if you are not a better marketer, if you can't communicate your message better, your competitor is going to get the customer, not you. Today, I see far too many "entrepreneurs" who have zero foundation in marketing, copywriting and persuasion, and they wonder why they don't get any results.

Every time you need someone to take an action, be it open your email, click a link, watch your video, sign up for something, or (here's our favorite part) buy something from you, you need to be MARKETING!!!!

Don't agree with me?

Just look at the titles of Marie's YouTube Videos:

"Info Product Rookie Mistakes You Don't Want to Make!"

"How to Visualize Results and Actually Get Things Done"

"Too much work and Still Broke? Come get a Business Smackdown?"

…need I go on?

Far too often I am blinded by the titles of other videos that say "Video 1: My Story.mp4" or "YouTubeVideo01.mp4"

SERIOUSLY?  Which videos would you click on?!

My homework for you: take a bit more time when writing that Video Title or Email Headline.  (And be sure of this, if your weekly newsletter has the headline "My Newsletter" I'm probably gonna unsubscribe!)

Look, people are sooo distracted today!  Everyone on these free social networking sites is fighting for their attention, and the winners are those who know how to market better!  Plain and Simple.

Marie knows what her audience wants.  She knows how to get their attention (marketing) and get them to take action.  But she also has the follow-through (delivering value) to keep people coming back.  You need both.

 Your Formula for Success

Want to know the secret, magical formula for success?  Here it is:  S + Y + X = Success

S= Swipe, or Model
Y= YOU!  Your content
X=That Magic "X-Factor" that makes you unique

Here is how this works.  Find others who are achieving the success you want.  Study them.  Analyze them.  Learn from them.  Then model them (S=Swipe) and model the things that are working for them.  Change their marketing to tailor YOU an your brand, and then add the final component…the "X-Factor."  Take their concept to the next level.  Make it better.  Make it more remarkable.

Marie is an incredible example for us all to learn from.  Make sure you watch her videos for inspiration, great examples, and for the actual content that she delivers.

Enroll in the Rich, Happy & Hot B-School
If you haven't yet, make sure to drop everything and watch Marie's free video series for her upcoming launch "Rich, Happy & Hot: B-School!" The videos are incredible, and so is the content!  Enjoy!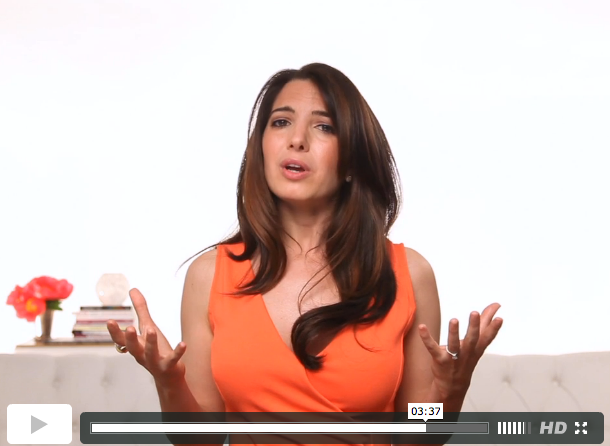 *And yes, I use my affiliate link when I recommend Marie's program, duh!