YouTube has made a ton of changes in the past year.  Most of them don't really effect us too much, but this most recent one certainly does.  For the longest time, only Official YouTube Partners could have the option to select a custom Thumbnail image for their videos.  Now…everyone can!  (well…kinda!) And this is HUGE for all of us.  In the following post, I will share with you some of the updates, my insights on this and how to take advantage of this immediately!
Is your Account Set Up for Custom Thumbnails?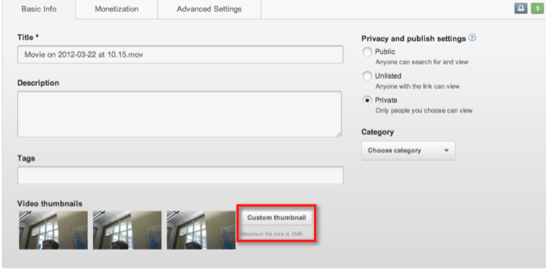 The first thing I would do right now is check to see if your account has been enabled for custom thumbnails.  A few of my YouTube channels ARE enabled, and a few are not.  I am assuming this is because YouTube is rolling this out, which means if you don't have this functionality yet, you will soon (hopefully!).
How to Help Speed Up the Process
Back in April, YouTube announced that everyone on YouTube could become a YouTube Partner and have their videos monetized.  These new partners would only have a fraction of the functionality of the original YouTube Partners.  So here is what I recommend: go through and activate the monetization options on your YouTube account.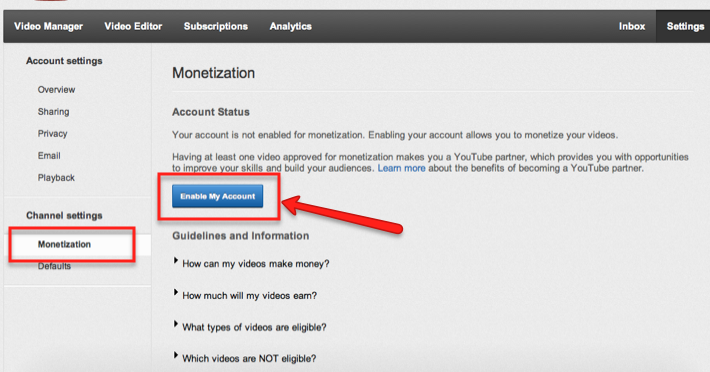 But here's the key: I am not a big fan of monetizing your videos (unless you can't figure out another way to make money with your content).  These ads are distracting and will cause your viewers to click on another business' link, and not yours.  I recommend only monetizing one or two videos (preferably a few older ones).  And leaving the rest unchecked.
Why the Custom Thumbnail is Your Biggest Ally!
This YouTube Custom Thumbnail is HUGE!  Simply put, the more attractive and enticing your thumbnail is, the more people will click on it from inside YouTube's related videos and search result pages.  And, YouTube actually measures CTR (or Click-Through-Rate) of your thumbnails.  If your video gets clicked more, they bump it up.  And let's face it, if you let YouTube "auto-generate" a thumbnail for you, the chances of getting a good one, are slim to none!
How to Take Advantage of the New Custom Thumbnail
If you have just checked your account and noticed that your videos are now enabled for the YouTube Custom Thumbnail, congrats!!  You've got some work to do! I highly, HIGHLY recommend going to work right now to creating custom thumbnails for all your videos…not just next week's video. Why?  Here's my theory: I believe people will quickly abuse this method.  They will upload images of beautiful women, or other clickable objects that have no correlation to the content.  This may result in YouTube removing or restricting this function all together.
The following are a few tips for making the best thumbnails for your channel:
1.  Make it Relevant!
Ok, so it's easy to abuse the system and add these random images of half-naked women, but here's what happens when you do.  Your viewer clicks on your video, realizes it has nothing to do with the thumbnail, gives you a thumb's down and leaves. Not good.  YouTube actually dings videos that have a horrible retention rate.  In other words, if all your viewers leave within 7 seconds, that's a big red flag and YouTube can de-rank you!
2. Find The Perfect Still Shot
I would take a moment, and scan your video looking for the perfect still shot.  It should be an image that best encapsulates the content of your video, but also draws your viewers in through curiosity and intrigue.  Take a screenshot of this perfect still.  (If you're on a Mac, simply use "Command + Shift + 4")
3. Add Text
Take that still shot and add it to your photo editing software.  Add some simple text that either reflects the title of your video or the main benefit of your video.  Adding the text will help to make your thumbnail pop and tell viewers what your video is all about.
4. Add Color
The more bright, popping colors you have in your custom thumbnail, the better!  If you can, choose a color that stands out and integrate into your video's custom thumbnail.
Here's a quick tutorial video to show you exactly how to do this for your videos:

YouTube Custom Thumbnail 
Some Great Thumbnail Examples
Marie Forleo at http://www.youtube.com/user/marieforleo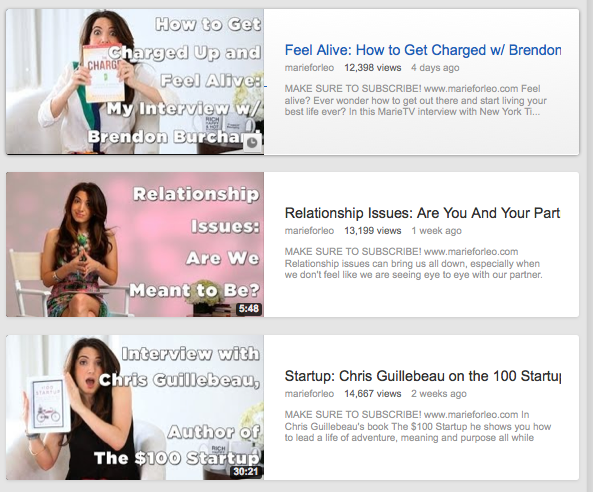 Dave Powers at http://www.youtube.com/user/rcsuperpowers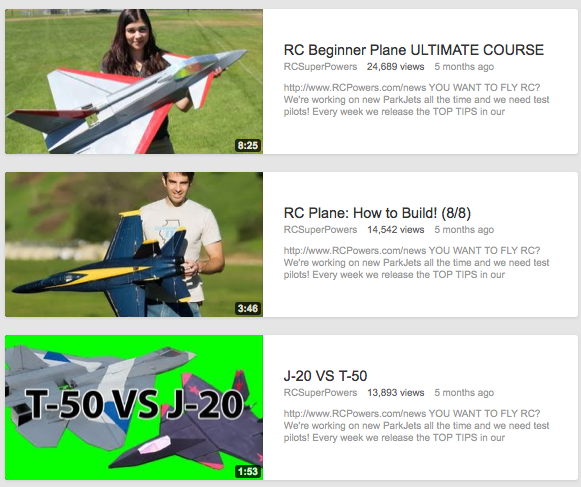 In Conclusion
Go check your YouTube channel for the Custom Thumbnail option right now!  If you don't have it yet, make sure your account is monetized, and be patient.  If you DO have the Custom Thumbnail available, get someone to help create better thumbnails for all your videos!
I would love to hear from you in the comments!  Tell me if your your channel has the YouTube Custom Thumbnail option or not and share your Channel URL below!  Thanks!