2012 has been the year of MASSIVE growth for YouTube.com, but it's also been a year of MASSIVE changes.  The last few months have seen some exciting additions that we can all take advantage of.  If you feel overwhelmed trying to keep up with everything, here's the only thing you really need to understand:  YouTube wants you to get more views.  They are consistently encouraging (and rewarding) those who are putting out desirable content.  The following four features are all "tactics" you can implement to increase views and expand your audience reach.  …but only if you have good content.
Let's begin…
1. Custom Thumbnails
I created a blog post about Custom Thumbnails a few months back.  This is one of the most exciting features that we can all be taking advantage of, so make sure to read through that quick post to see if you have access to this wonderful function, and how you can best take advantage of it!  You can read the blog post here:  http://www.jameswedmore.com/youtube-custom-thumbnail/
2. InVideo Programming
This exciting new addition allows you to promote & feature your channel (
your branding
) and other content across all of your videos with the click of a button!  This function "basically" already existed through the use of annotations, but now you can add a video or a link to your channel inside ALL of your videos with just the click of ONE button…pretty cool!
I recommend playing around with the "Featured Video" (rather than the "Feature your Channel") option first.  To set it up…
1.  Head on over to your "YouTube Settings" page and look for the "InVideo Programming" link on the left sidebar
2. Click the "Feature a Video" option, select the video you would like to get more views, and fill out the additional options.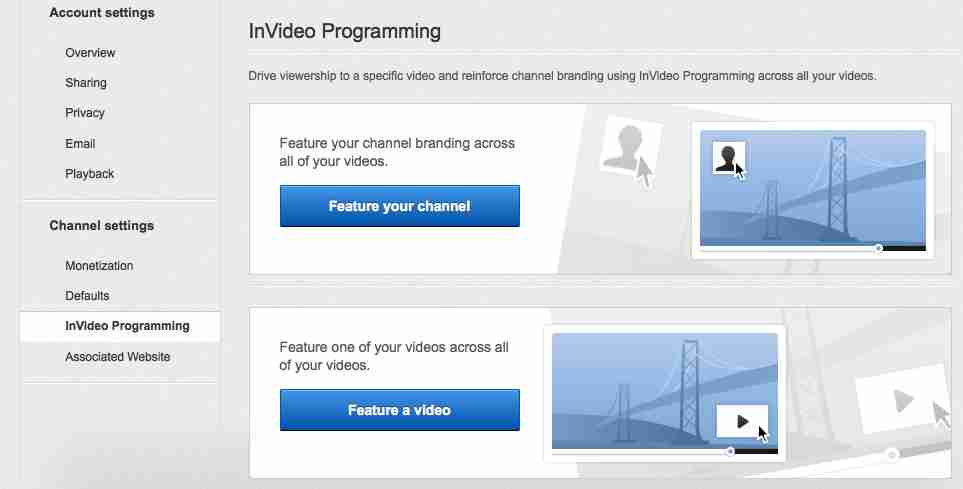 c) I chose my "Video Revolution" video, and chose to have the video's thumbnail appear at the bottom right corner at the end of the my video, for 10 seconds.  But, that's just me.  😉  You can choose whatever options work best for you!

Like I said, I'm a big fan of the "Feature a Video" function, not the "Feature Your Channel." I recommend you take the 7.5 seconds to implement this strategy, and add your most-popular video as a Featured Video right now.
3. Interactive Polls & Questions
YouTube just got way cooler!  NOW we can interact and engage with our audience even more with the new Interactive Question/Poll feature.  The opportunities are endless here!  You can:
Create quizzes & giveaways
Poll your audience for feedback
Ask for suggestions on future content
Even ask them "if this content was helpful/enjoyable"
This will skyrocket your total view length, retention levels and engagement! (Which YouTube is looking at a LOT right now!)
To get started and use the Video Questions Function, follow the simple directions below:
Activate your "beta" account for Video Questions here: http://www.youtube.com/video_questions_beta
Go to your YouTube "Video Manager" and select the "edit" button on any of your past videos
From here, click the "Questions" button at the top tool bar
Follow the simple on-screen instructions to "add a question" with your possible answers (multiple choice)
You can select WHEN in the video you would like the questions to show up
To get the results to your poll/question, visit the YouTube Analytics & look for the data on your video's Annotations
Remember, think "Engagement."  How can you get your audience excited about actively participating in your videos?  Asking the right question may just be the answer!  😉
4. New Analytics Feature: Estimated Minutes Watched
YouTube is notorious for giving us unparallelled data about our viewers.  Using "YouTube Analytics," we can see everything form who are audience is, where they live and how they behave on our videos.  Just the other day, YouTube added an additional feature: Estimated Minutes Watched.  We can see this number for each video and our entire channel!  So, why is this important?
When someone watches your video, YouTube rewards you with a "view."  However, a "view" does not mean this "viewer" watched your entire video.  In fact, YouTube probably counts a view after only ten seconds of watching.  How many times have you left a video after 15 seconds?! This "Estimated Minutes Watched" data gives more insight into how much of our videos are getting watched my viewers.
Look at it this way…
If we have a two minute video with 100 views and an "average minutes watched" of 100 minutes, the average person is leaving half way through the video.  This will data can give you great insight on how to improve the engagement of your videos, so you can keep your viewers watching longer!  Why?!  Because THAT'S what YouTube is looking for right now: BETTER ENGAGEMENT!
In Conclusion…
Make better videos!  YouTube is implementing new ways to track the quality of your videos based on engagement, attention and interaction.  However, YouTube is also helping you to improve your videos and improve your promotional efforts.  If you play within YouTube's rules, you can go far with your efforts.  If you wish to move into 2013 with crappy content that provides zero value to the marketplace, you may find your efforts in vain.