I am sooo excited to announce that our Video Marketing eCourse Video4PROFIT is LIVE and now available for sale in Clickbank!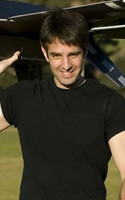 What is Video4PROFIT?
The Video4PROFIT eCourse is an in-depth look at the business model, strategies and tools that Youtube Super Star Dave Powers uses in his odd-ball niche of RC Airplanes to drive MASSIVE amounts of traffic to his websites, sell over +350 of his digital products EVERY month AND (most importantly) create a powerful brand and massive following. All of this is done through the power of video and Youtube!
A Little About Dave Powers:
+41 Million Video Views

+60,000 Video Views every single day

+30,000 Youtube Subscribers

Has the 6th MOST-VIEWED video in his Youtube Category

Makes +$100/day JUST from Youtube Partner Program

48th most-viewed Youtube Guru

Sells +350 eBooks EVERY month
Created his own Forum with +6,800 active users!
…and he's showing you EXACTLY how he did it!
Get INSTANT (FREE) ACCESS to the COURSE NOW!!
Sign up for an free trial account (no #CC needed!) and check out the course for yourself!
REGISTER NOW:
http://www.OnlineVideo4PROFIT.com/blog/freeaccess